__________________________________________________________________________________________________________
Records that may be of interest for people seeking Radzimski/Radziemski's ancestors:
Through an mutual effort and close collaboration with Bernard Radzimski from Opole, we were able to assembly several lineages with hundreds of records, that are going back to period from ~1750 to 1800. Those are genealogical trees listing descendants of:
These lineages are supported with original documents related to birth, marriage or death of the ancestors. These lineages were identified using church and most recently on-line records being provided by the Polish government. 
__________________________________________________________________________________________________________
Record Examples: 

Marriage record in Latin from Sługocinek dated November 12, 1786 of  Pawel Radziemski and Elżbieta Mikołayczak. Please note that this record lists only first names, that is typical for this period of time.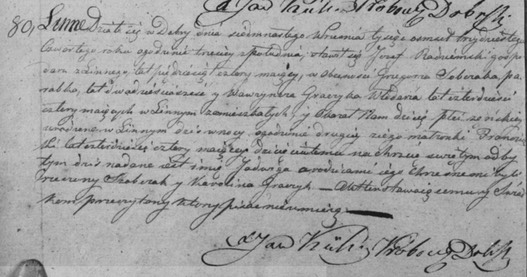 Birth record in Polish from Linne near Dobra dated September 17, 1834 of Jadwiga Radzimska.

Death record in Russian from Dobra near Turek dated August 24, 1873 of  Barbara Radzimski. 
__________________________________________________________________________________________________________
Radzimski, Radziemski, or maybe something else? 
Registration of births, marriages and deaths in Poland in earlier times was done mainly by the Catholic Church. Unfortunately written documents were not issued to families so all the facts, including names, were mainly remembered phonetically. During a registration, a priest or designated person recorded the names as they were told. As a result, a name was written in different forms depending on who wrote it. In addition, our ancestors didn't know how to read and write, therefore could not validate the record. We can find many examples of this in genealogical trees of Radzimski and Radziemskis' families. Here, we  illustrate this case using Mikołaj from Mikulice near Dobra in Turek county.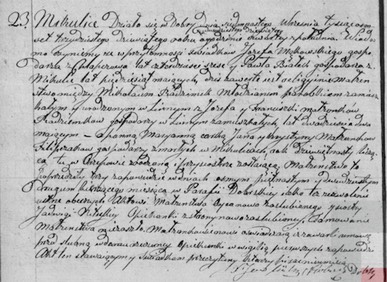 In his marriage recordings from 1839 his name is Mikołaj Radzimek.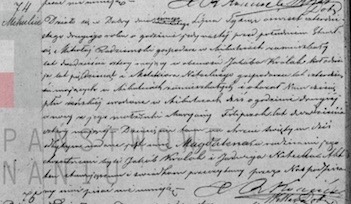 A few years later in the 1842 birth record of his daughter Magdalena he is listed as Radziemski.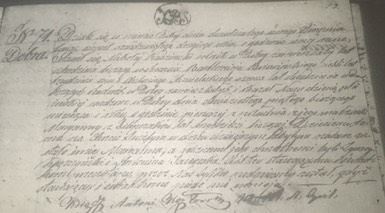 In 1862 he is Radzimski in the birth record of another daughter Maryanna, but in 1865 his name is Radziemek in the birth record of his son Tomasz.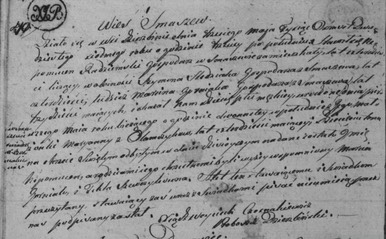 A similar story is with his descendants. Their names changed often until 1902, when Stefan was born who is Mikołaj's grandson and son of Tomasz. He was recorded as Radzimski and since then the entire family is using this last name. 
In conclusion, it was most likely a simple coincidence that this last name was recorded at the times when first certificates were issued to the families. 
__________________________________________________________________________________________________________
Helpful Links:
Project Poznań: Database of the 19th century marriage records from the historic Greater Poland (then Prussian Province of Poznan).
Genetyka: WEB site of the Polish Genealogy Society.
BaSIA: Database of the Wielkopolska Genealogical Society with scans of vital records which have been made online by the Polish National Archives.
Słownik Historyczno-Geograficzny Ziem Polskich w Średniowieczu: Historical and Geographical Dictionary of Medieval Poland.
Polish Genealogical Society of America: Organization that collects, disseminates and preserves information on Polish and Polish-American family history and to helps its members use that information in their own research.
Śląskie Towarzystwo Genealogiczne: Genealogical Society of Silesia, Poland
Minakowski's Great Genealogy: Database with over 400,000 people from elites of Central-Eastern Europe 
Szukaj Przodka:  WEB Site with numerous links to sites useful both to novice genealogists and to those who have been engaged in the exploration of ancestors for many years.
Castles of Poland: Collection of Polish castles with short history.
Polish Genealogy: Collection of Polish Coat of Arms
Moi Krewni: WEB site showing the residence of Polish citizens by their last name:
Genealogy of Radzimski's Family: by Bernard Radzimski from Opole, Poland.